Ana Hartwich: Turning simple walls into decorative design pieces
Text: Jessica Holzhausen | Photos: Ana Hartwich
With her work, the Vienna-based painter Ana Hartwich finds herself at the border between art and interior design: she creates unique and individual wall paintings that reflect the space, the colour scheme and the owner's personality and taste.
Ana Hartwich trained as an artist and even though her main focus is on painting, she has also worked with different mediums like textiles or gesso. Her second career path led her into interior design. "Working as an interior designer and painter, I discovered that there is an opportunity to link both in wall decorations," she says. Today, she creates unique wall designs that exclusively fit the space. "I can paint in different styles and adapt to the interior." A restaurant in a large industrial space needs a different wall design than a 19th-century apartment with stucco ceiling or an inviting hotel lobby.
The idea was born when the artist was looking for a backsplash for her own kitchen and could only find expensive or boring tiles or glass: so she painted and coated the wall instead. Kitchens and bathrooms are a challenge, admittedly, because surfaces do need to be water resistant and easy to clean.
With her versatile artistic talent and in cooperation with interior designers, Ana Hartwich creates personalised decorations that give interior spaces the ACCENTWALL they need.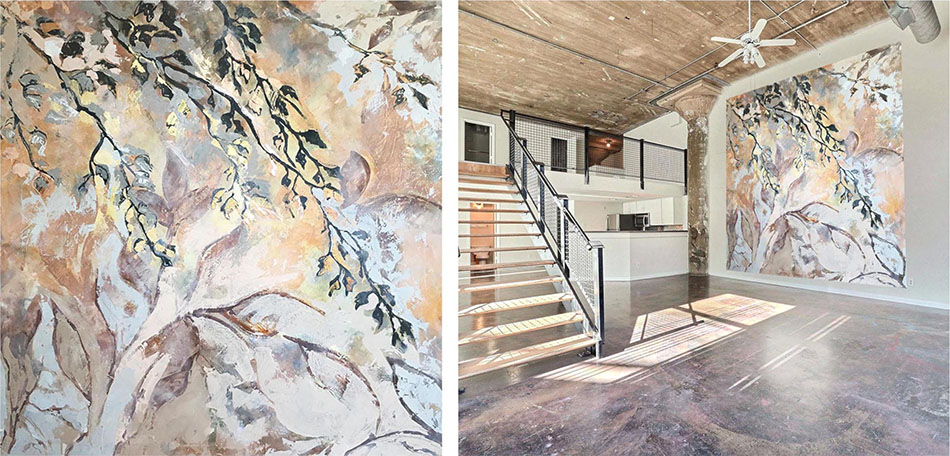 Einfache Wände in dekorative Designstücke verwandeln

Mit ihrer Arbeit bewegt sich die Wiener Malerin Ana Hartwich an der Grenze zwischen Kunst und Innendesign: Sie schafft einzigartige und individuelle Wandgemälde die den Raum, das Farbschema, die Persönlichkeit und den Geschmack des Besitzers wiederspiegeln.
Ana Hartwich ist studierte Künstlerin und auch wenn ihr Hauptfokus auf der Malerei liegt, hat sie mit verschiedenen Medien wie Textilien oder Gips gearbeitet. Ihr zweiter Karriereweg führte sie in den Bereich Innendesign. "Durch meine Arbeit als Innendesignerin und Malerin habe ich festgestellt, dass beides zusammen bei Wanddekorationen ganz neue Möglichkeiten bietet", sagt sie. Heute schafft sie einzigartige Wanddesigns inspiriert von Raum und Architektur. "Ich kann in verschiedenen Stilen malen und mich an das jeweilige Innendesign anpassen." Ein Restaurant in einem Industriegebäude braucht einen anderen Stil als ein Apartment aus dem 19. Jahrhundert oder eine einladende Hotellobby.
Die Idee entstand, als die Künstlerin einen Spritzschutz für die eigene Küche suchte und nur langweilige und teure Fließen oder Glas fand. Stattdessen bemalte und versiegelte sie die Wand. Küchen und Bäder sind eine Herausforderung, da es wasserabweisender und einfach zu reinigender Oberflächen bedarf.
Mit ihrem vielseitigen Talent und in Zusammenarbeit mit Innendesignern kreiert Ana Hartwich personalisierte Dekorationen, die Innenräumen die ACCENTWALL geben, die sie brauchen.
Web: anahartwich.com ahaflip.com
Subscribe to Our Newsletter
Receive our monthly newsletter by email