Rheinfelden: The little town with the long memory
Text: Silke Henkele | Photos: Tourismus Rheinfelden
The small town of Rheinfelden has an eventful past, and with its engaging present, is always worth a visit.
Located right on the Rhine, visitors will find it difficult to escape Rheinfelden's unique appeal: "The medieval old town, with its picturesque, well-preserved buildings from times long gone, winding alleys and narrow streets, is full of eery, enchanting stories," reveals Stéphanie Berthoud, manager of Rheinfelden's town office.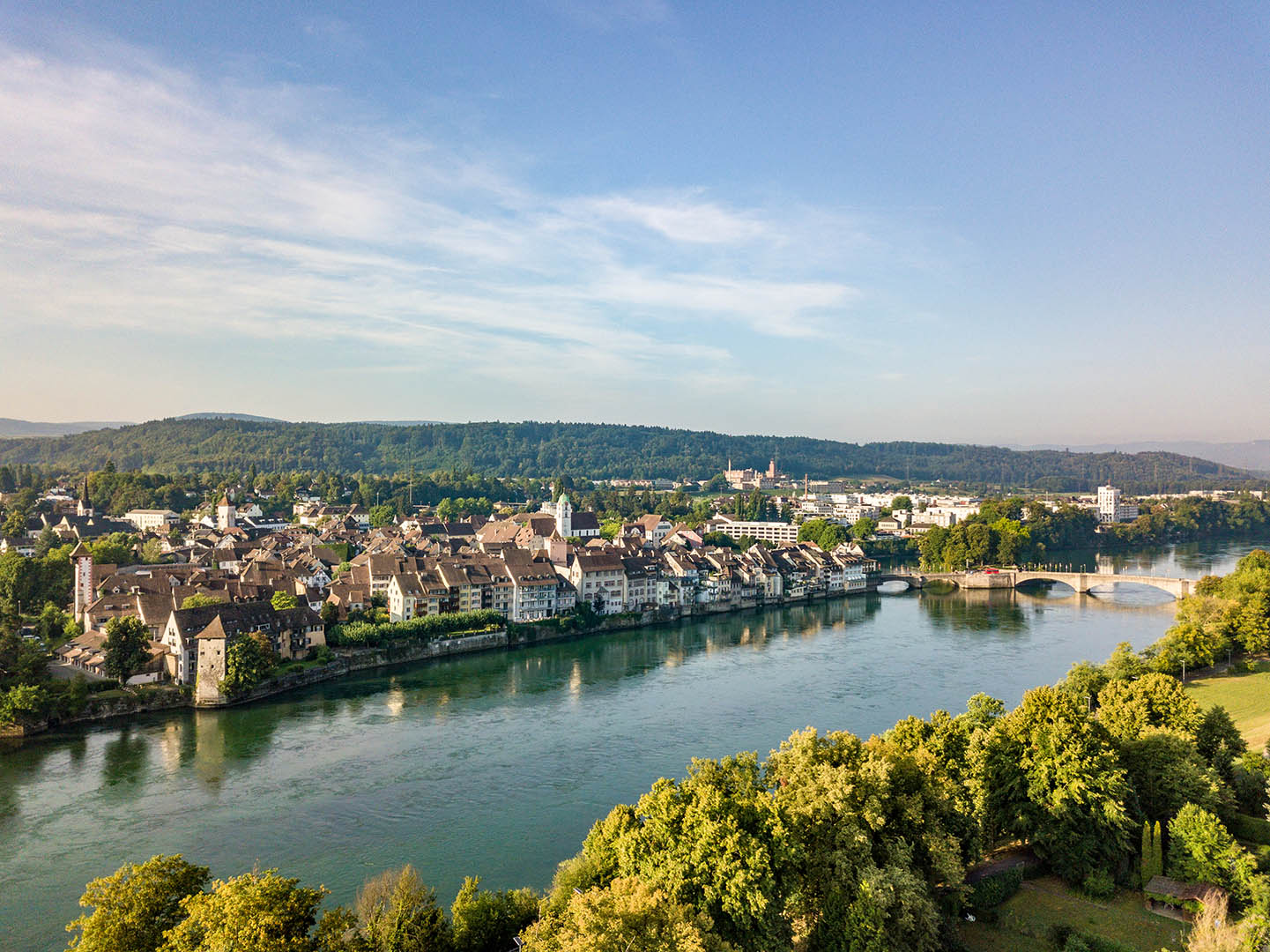 "Visitors can best enjoy the city on a tour along the Rheinuferweg. Many of our guests drift along, get inspired by great shopping opportunities or take a break in one of our well-kept parks."
2019 is dedicated to the motto 'The House of Zähringen', an old dynasty that has left a strong mark on the city. Scenic tours about Agnes, duchess of Zähringen, as well as a travelling exhibition in the Fricktaler Museum, commemorate this glamorous time.
Which restaurants would Berthoud suggest in particular? "That's difficult. Restaurant Schützen sits in an idyllic, central location and offers francophone cuisine. At the Hotel Schiff am Rhein, with its Restaurant Rhyblick, guests can enjoy Swiss cuisine with a touch of the Mediterranean directly on the Rhine. The idyllic and peaceful Hotel EDEN im Park and the adjacent Restaurant Makaan offer European-Asian cuisine."
Kleine Stadt mit großen Erinnerungen

Das Städtchen Rheinfelden hat eine bewegte Vergangenheit. Und ist immer einen Ausflug wert.
Direkt am Rhein gelegen, können sich die Besucher dem besonderen Reiz Rheinfeldens nur schwer entziehen: "Die mittelalterliche Altstadt mit ihren malerischen, gut erhaltenen Gebäuden aus längst vergangenen Zeiten, verwinkelten Gassen und schmalen Sträßchen steckt voller schaurig-schöner Geschichten", weiß Stéphanie Berthoud, Leiterin des Stadtbüros Rheinfelden.
"Am besten, man genießt die Stadt auf einem Rundgang entlang am Rheinuferweg. Viele unserer Besucher lassen sich treiben, von den charmanten Boutiquen inspirieren und legen in einer der gepflegten Parkanlagen unserer Stadt kleine Erholungspausen ein."
Das Jahr 2019 steht unter dem Motto 'Die Zähringer', ein altes Fürstengeschlecht, das die Stadt nachhaltig prägte. Szenische Führungen über Agnes, Herzogin von Zähringen und eine Wanderausstellung im Fricktaler Museum erinnern an diese glanzvolle Zeit.
Welche Restaurants schlägt Frau Berthoud vor? "Da ist die Auswahl nicht leicht. Das Restaurant Schützen ist idyllisch und zentrumsnah gelegen und überzeugt mit frankophoner Kulinarik. Im Hotel Schiff am Rhein mit seinem Restaurant Rhyblick genießen Gäste direkt am Rhein Schweizer Küche mit mediterranen Geschmacksnoten. Während das ruhig und idyllisch gelegene Hotel EDEN im Park mit dem angrenzenden Restaurant Makaan die Gäste zu europäisch-asiatischer Küche einlädt."
www.tourismus-rheinfelden.ch www.hotelschuetzen.ch www.hotelschiff.ch www.hoteleden.ch
Subscribe to Our Newsletter
Receive our monthly newsletter by email