Nect GmbH: A pioneer in reliable online identification
Text: Silke Henkele | Photos: Nect Gmbh
Attempts at online identification often lead to the loss of a potential new customer. A start-up from Hamburg provides a solution.
"Eight out of ten clients would rather open their bank account online than at a branch. Although the online alternative therefore holds huge potential, it has been found that every second user cancels their registration prematurely. In up to 60 per cent of these cases, a classic video identification procedure is to blame for the loss of the new customer," says Benny Bennet Jürgens, founder of technology enterprise Nect GmbH.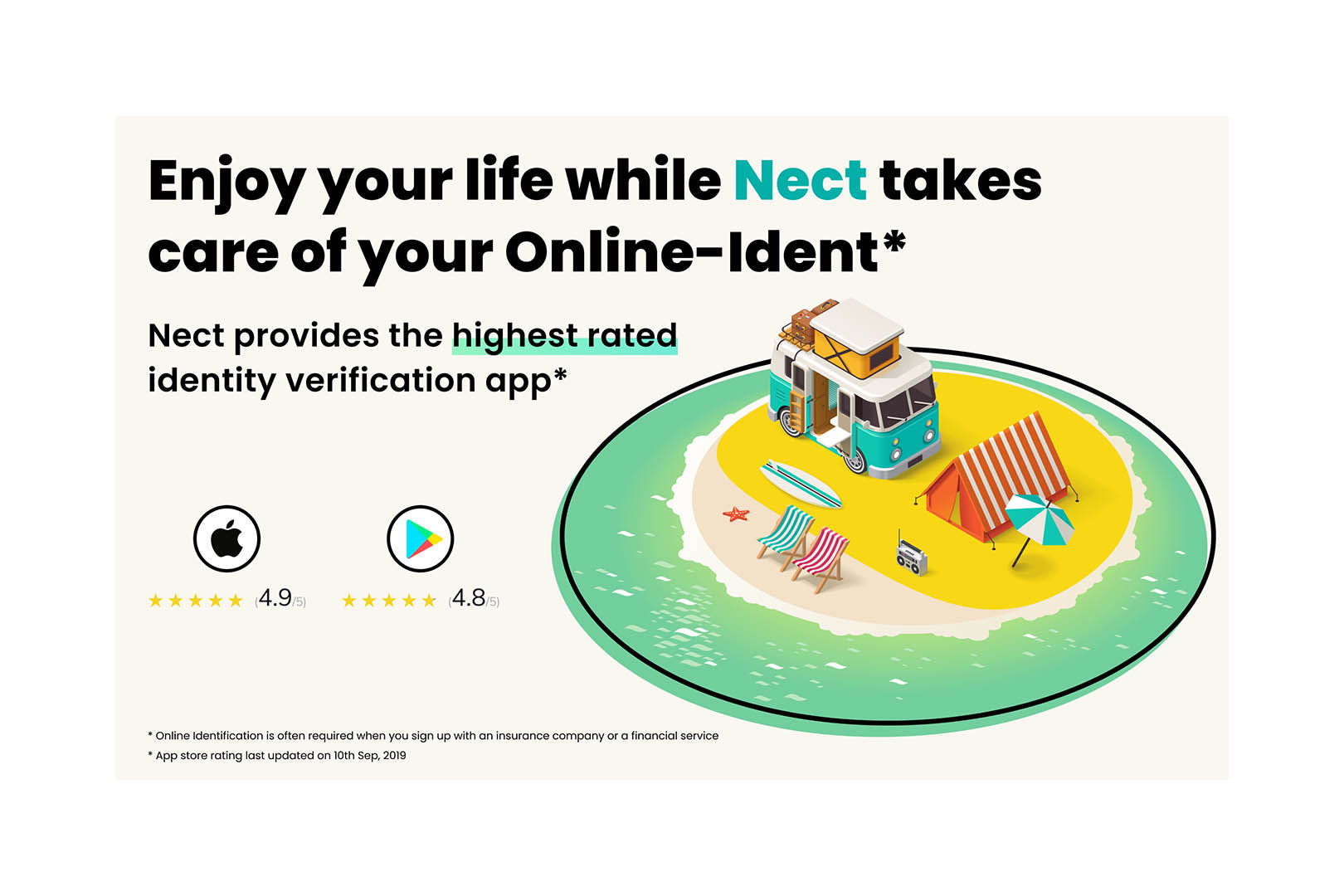 The company offers the first fully-automated video identity verification approved by German health insurance companies; it enables users to identify themselves easily, reliably and quickly. "Our technology is based on innovative biometric algorithms and on artificial intelligence. Our intuitively guided software allows the user to reliably confirm their identity within seconds, at the highest security level."
This makes Nect GmbH's software not only the most secure, but also the best user rated software meeting the legal requirements for identity validation. "Towards the end of this year, we will expand our services to payment transactions. Rather than using a SMS TAN or TAN App, users can use their face to confirm money transfers: simple and PSD2-ready."
A demo version of these innovative products can be requested online.

Ein Vorreiter der zuverlässigen Online-Identifizierung

Versuche zur Online-Identifizierung enden oft mit einem Abbruch. Ein Start-Up aus Hamburg schafft Abhilfe.
"Acht von zehn Kunden würden ihr Bankkonto lieber online als in einer Filiale eröffnen. Obwohl der Online-Kanal damit ein riesiges Kundenpotential bietet, bricht jeder zweite Nutzer den Abschluss vorzeitig ab. In bis zu 60 prozent der Fälle ist ein klassisches Video-Ident-Verfahren schuld am Verlust des Neukunden", so Benny Bennet Jürgens, Gründer des Technologieunternehmens Nect GmbH.
Das Unternehmen bietet das erste vollautomatisierte Videoverfahren, welches sogar für den Einsatz bei deutschen Krankenkassen zugelassen ist. Kunden können sich ohne Wartezeiten bequem und zuverlässig identifizieren. "Unsere Technologie basiert auf innovativen Biometrie-Algorithmen und auf künstlicher Intelligenz. Mit unserer intuitiv geführten Software kann ein Nutzer seine Identität innerhalb von Sekunden auf dem höchsten Sicherheitsniveau zuverlässig bestätigen."
Damit hat die Nect GmbH nicht nur die sicherste, sondern auch die von Nutzern am besten bewertete Software entwickelt, die die gesetzlichen Anforderungen an eine Identitätsbestätigung erfüllt.
"Zum Ende des Jahres weiten wir unser Serviceangebot auf den Zahlungsverkehr aus. Anstatt mit einer SMS TAN oder einer TAN App können User Transaktionen einfach mit ihrem Gesicht bestätigen. Einfach und PSD2 konform."
Eine Demoversion der innovativen Produkte kann über die Homepage angefordert werden.
Subscribe to Our Newsletter
Receive our monthly newsletter by email