Metzgerei Keller: A pinch of pepper − the modern interpretation of an old craft
Text: Silke Henkele | Photos © Metzgerei Keller AG
Consumers are more and more conscious of the quality of their food. Zurich-based traditional butcher Keller sets an example and offers a wide variety of high-quality, yummy sausages and meat products.
"My grandfather Armin Keller established our butcher's shop in 1934 and, to some degree, we still use his recipes today," recounts Urs Keller, manager of Keller Butchers. Aware of the timelessness of tradition, Keller Butchers stands out via a high regard of the product as well as a traditional understanding of the butcher's trade. Keller continues: "Yes, we are proud to be a traditional enterprise. That notwithstanding, we are constantly developing new ideas and products. You may safely say that we are creative traditionalists who pass on their know-how and love of the product from generation to generation."
Next to the high-quality meat products that Keller Butchers primarily obtains from Switzerland and partially from e.g. Australia, Ireland, USA or South America, it is the shop's very own specialities which makes its sales mix so particular.
"We feel obliged to our long-standing tradition. We have, however, enhanced my grandfather's recipes to better match the zeitgeist which likes its food a little bit spicier than in the past. Our very own 'Wiedikerli' are known beyond Zurich's borders and are one of our highlights. Named after the district in which Keller Butchers is located, our Wiedikerli sausages, relished in its pure version, refined with fennel or with peperocini or, alternatively, made from veal, are incredibly popular with our customers and are savoured by an ever-growing crowd of fans," says Keller.
Quality speaks for itself. Meat products and sausages not only are popular with private households, but also with gastronomical premises from around Zurich. "Restaurants, cafés, hotels and restaurant chains count amongst our many commercial customers – proof for us that our products are highly esteemed by the professionals also," Keller says proudly.
Yet, Keller Butchers does not want to rest on its laurels. "In 2019, we will celebrate our Wiedikerlis' 25th anniversary. We will therefore launch new creations particularly suited for summer barbecues and are already looking forward to our customers' reactions!"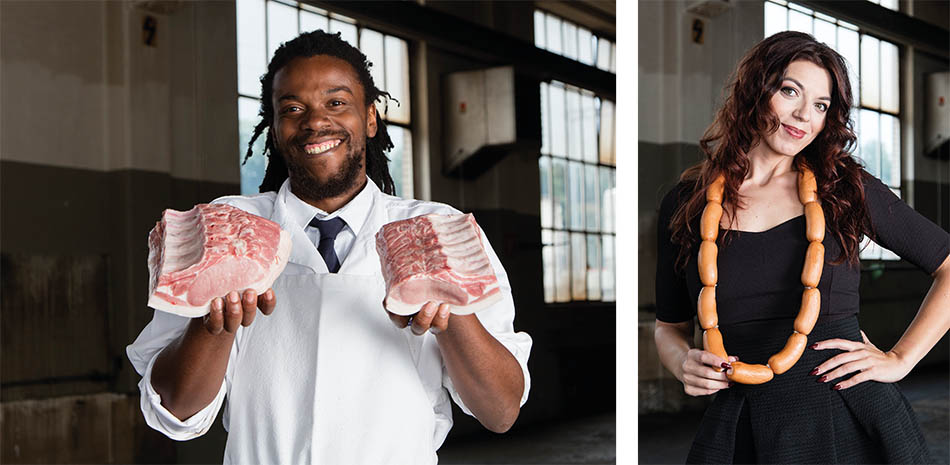 Eine Prise Pfeffer − altes Handwerk neu interpretiert

Verbraucher achten heute immer mehr auf die Qualität von Lebensmitteln. Die Zürcher Traditionsmetzgerei Keller geht mit ihrem breitgefächerten Sortiment an hochwertigen und leckeren Wurst- und Fleischwaren mit gutem Beispiel voran.
"Mein Großvater Armin Keller eröffnete die Metzgerei 1934, und in Teilen produzieren wir noch heute nach seinen Rezepten", erzählt Urs Keller, Geschäftsführer der Metzgerei Keller. Wohlwissend, dass Tradition zeitlos ist, zeichnet sich die Metzgerei durch viel Wertschätzung des Produkts und durch ein traditionelles Verständnis des Metzgerhandwerks aus. Hierzu meint Keller: "Ja, wir sind ein traditionelles Unternehmen, und darauf sind wir sehr stolz. Darüber hinaus allerdings entwickeln wir uns ständig weiter und arbeiten an neuen Produkten und Ideen. Man kann schon sagen, dass wir kreative Traditionalisten sind. Und dass wird unser Know-How und die Liebe zum Produkt von Generation zu Generation weitergeben."
Neben hochwertigen Fleischwaren, die die Metzgerei Keller vor allem aus der Schweiz bezieht, teilweise aber auch beispielsweise aus Australien, Irland, USA oder Südamerika importiert, sind es auch die Spezialitäten, die das Sortiment der Metzgerei so besonders machen.
"Wir fühlen uns der Tradition verpflichtet, und so produzieren wir teilweise auch heute noch nach Rezepten meines Großvaters – allerdings haben wir diese dem Zeitgeist leicht angepasst, der es pikanter und schärfer mag als früher. Von ganz besonderer Bedeutung sind unsere 'Wiedikerli', die auch über Zürichs Stadtgrenzen hinaus bekannt sind. Benannt nach dem Stadtteil, in dem sich unserer Metzgerei befindet, handelt es sich dabei um Bratwürste aus Schweinefleisch, die, pur, mit Fenchel, extra scharf mit Peperocini oder auch in der Version aus Kalbsfleisch von unseren Kunden sehr geschätzt werden und immer mehr Kunden begeistern", weiß Keller.
Qualität überzeugt! Fleisch- und Wurstwaren der Metzgerei Keller sind nicht nur bei Endverbrauchern beliebt, sondern auch in der Zürcher Gastronomie. "Wir beliefern viele Restaurants oder auch Cafés, Hotels und Systemgastronomie im Umkreis. Für uns Zeichen, dass die Qualität unserer Waren auch von Profis geschätzt wird", ist sich Keller sicher.
Ausruhen möchte sich Keller aber auf diesen Lorbeeren nicht. "2019 feiert die Wiedikerli 25-jährigen Geburtstag. Im Frühjahr werden wir daher neue Kreationen auf den Markt bringen, die sich besonders gut zum Grillen eignen. Wir sind schon sehr gespannt auf die Reaktionen unserer Kunden!"

Web: metzgerei-keller.ch
Subscribe to Our Newsletter
Receive our monthly newsletter by email