LivQ – Fermented essences from the heart of Bavaria
Text: Jessica Holzhausen | Photos © Livq
Fermentation is one of the top food trends, because it is natural and, at the same time, effective: microorganisms like lactic acid bacteria transform food so that new nutrients develop and the existing ones can be digested easier. The livQ organic essences are a ver power plant for the body.
"Our products are for everyone who knows about the responsibility they have for their own wellbeing – young and old, for prevention or to support regeneration," says founder Renate Ladner. When her own children were born, Ladner developed a stronger sense for a healthier lifestyle and, as a professional reorientation in 2013, founded livQ.
"For the development, we included the experience of therapists and matched the ingredients accordingly," says Ladner. Researchers from Leipzig University have recently discovered how lactic acid bacteria in fermented food – like the livQ essences – interact with the immune system.
The experienced livQ team, with an office in Neuried, Munich, produces exclusively in Germany and uses nutritionally valuable organic raw ingredients – without any artificial vitamin or mineral additions. This makes livQ unique on the market. The main features of livQ organic essences and the organic yeast substrates are a long and intensive fermentation, best tolerability and high efficiency.
The products can be bought in organic stores and online.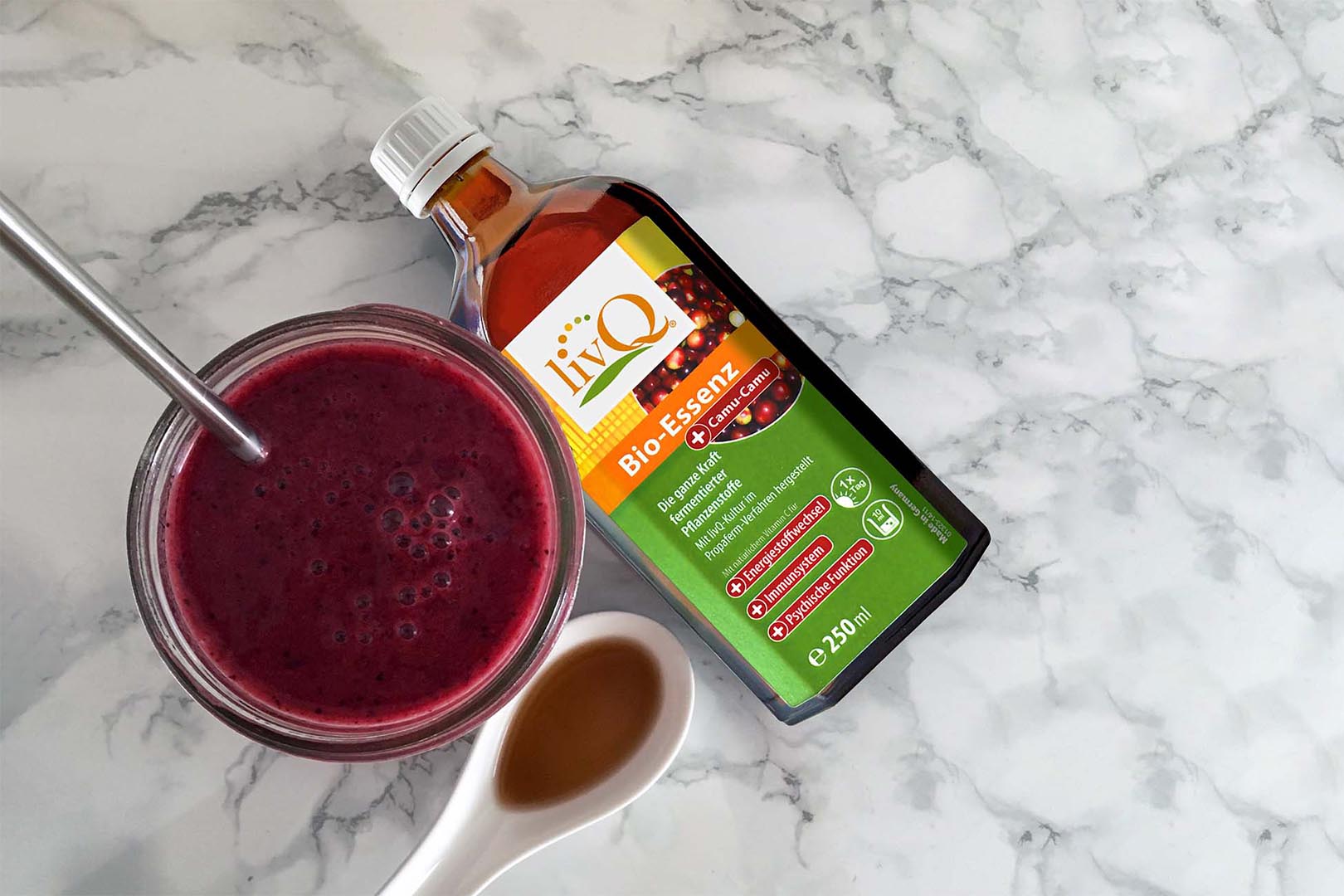 Fermentierte Essenzen aus dem Herzen Bayerns

Fermentation ist einer der Top-Food-Trends und ist gleichermaßen natürlich und effektiv: Mikroorganismen, wie Milchsäurebakterien, verwandeln Lebensmittel, so dass neue Nährstoffe entstehen und sich die vorhandenen besser verarbeiten lassen. Die Bio-Essenzen von livQ sind ein energiegeladenes Kraftwerk für den Körper.
"Unsere Produkte sind für alle, die sich der Eigenverantwortung für ihr persönliches Wohlbefinden bewusst sind – Jung und Alt, zur Vorbeugung oder zur Unterstützung der Regeneration", sagt Gründerin Renate Ladner. Mit den eigenen Kindern wuchs Renate Ladners Bewusstsein für eine gesunde Lebensweise und sie orientierte sich beruflich neu und gründete 2013 livQ.
"Bei der Entwicklung haben wir Erfahrungen von Therapeuten einbezogen und die Zusammensetzung entsprechend abgestimmt", sagt Ladner. Wissenschaftler der Uni Leipzig haben inzwischen herausgefunden, wie Milchsäurebakterien in fermentierten Lebensmitteln – wie denen von livQ – mit dem Immunsystem interagieren.
Das erfahrene livQ-Team mit Firmensitz in Neuried, München, produziert ausschließlich in Deutschland und nutzt ernährungsphysiologisch wertvolle Bio-Rohstoffe – ohne die in anderen Produkten häufig überdosierten künstlichen Ergänzungen von Vitaminen und Mineralien. Damit ist livQ einzigartig auf dem Markt. Die livQ Bio-Essenzen und die Bio-Primärhefe zeichnen sich durch eine lange und intensive Fermentierung, beste Verträglichkeit und hohe Effizienz aus.
Die Produkte sind im Biohandel, bei Apotheken und Online erhältlich.
Subscribe to Our Newsletter
Receive our monthly newsletter by email